About Jeff Slayton:
Jeff Slayton began his professional career performing with the Merce Cunningham Dance Company and he later became a principal dancer with the Viola Farber Dance Company. Slayton and Farber shared an award for Creativity and Expression at the 1972 International Paris Dance Festival for Farber's duet Tendency (1970). After moving to California in 1978, Slayton became the Artistic Director and Choreographer for Jeff Slayton & Dancers, which toured for six years. The recipient of several National Endowment of the Arts choreography grants, he also served on the California Arts Council's Dance Touring Panel for three years.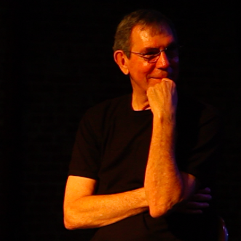 Slayton's choreography has been in the repertory of several dance companies throughout the US including Lynn Dally & Dancers, Colorado Repertory Company, Vox Dance Theatre, New York Dance Collective, and the New Dance Ensemble. He has choreographed solos for Viola Farber, Maria Cheng, Donna White, Sarah Swenson, Kerry Kreiman and others. Slayton has taught and choreographed for numerous dance festivals, university and college dance students throughout the United States, Europe, South America and Korea. He was on the faculty of the American Dance Festival in Durham, NC from 1988 to 1996, teaching modern dance technique and repertory. Slayton also choreographed two works for The Wooden Floor (formerly known as St. Joseph Ballet) in Santa Ana, CA.
Slayton was awarded the Excellence In Teaching award at CSULB in 1992. In 1999, Slayton took early retirement from California State University, Long Beach, where he was a faculty member in the Dance Department for 21 years. He went on to become a guest faculty member at UC Berkeley (spring 2000), Mills College (spring 2001), and the North Carolina College of the Arts (spring 2002).
Jeff Slayton is the author of two books, The Prickly Rose: A Biography of Viola Farber (2006, AuthorHouse, Bloomington, IN.) and Dancing Toward Sanity (2014, Dorrance Publishing Company, Inc., Pittsburgh, PA.)